When it comes to rug cleaning, experience matters. Since 1978, Persian Rug Cleaner has been a trusted name in Persian and Oriental rug cleaning in the Dallas/Fort Worth area. Our experts know how to clean all types of rugs, from machine made to handmade antiques, and have experience washing everything from cotton to wool to silk- and much more, too.
Persian and Oriental rugs should be washed at least every three to five years. Due to the nature of the fibers in these rugs, your rug can practically double in weight with the amount of dirt, dust, and dander it collects over the years. Although Persian and Oriental rugs are quite durable, even they cannot last long when neglected. If your rug needs to be washed, we suggest bringing it in for a professional cleaning. The experts at Persian Rug Cleaner know how to clean and restore your rug, bringing it back to its original beauty.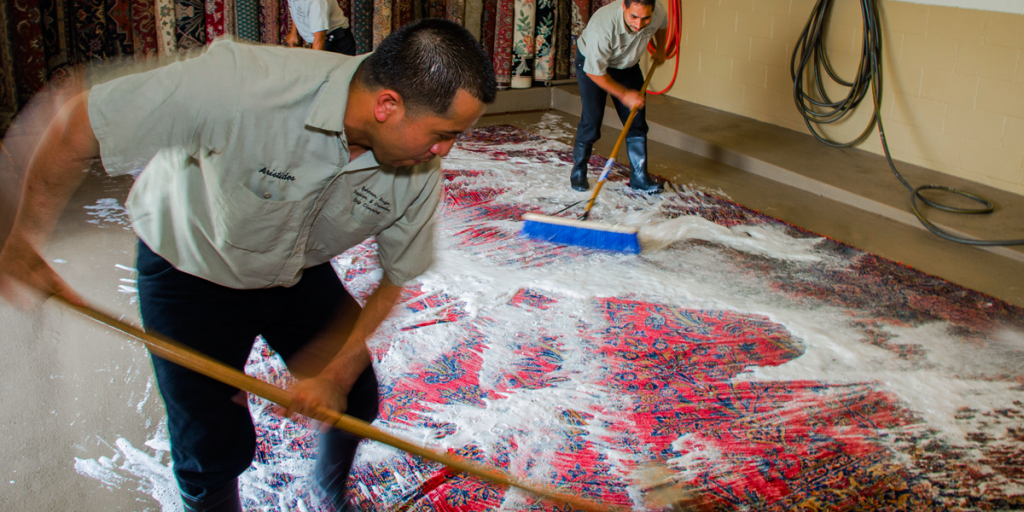 We use only the traditional, handwashing method to ensure that even the most delicate rugs can be thoroughly cleaned without damaging the fibers. Your rug will be scrubbed front and back using our organic enzyme wash. Our special enzyme wash is made specifically for your rug. That's right! Each batch is mixed to match all that your rug has been through. Whether your rug just needs a maintenance clean or if it has seen quite the number of stains and accidents over the years, your rug will receive its very own enzyme wash mix. The wash moves around the fibers, cleaning each and every part of your rug.
Your rug is then dried- flat so not to stress the fibers- in natural sunlight. On cloudy or rainy days, your rug will be dried in our specialized indoor drying station. Although the handwashing method is more labor intensive, we feel that it provides the best results.
Every rug is priceless to its owner, and Persian Rug Cleaner understands the importance of taking a little more time to deliver fantastic results. We also offer free pick-up and delivery in our service area.