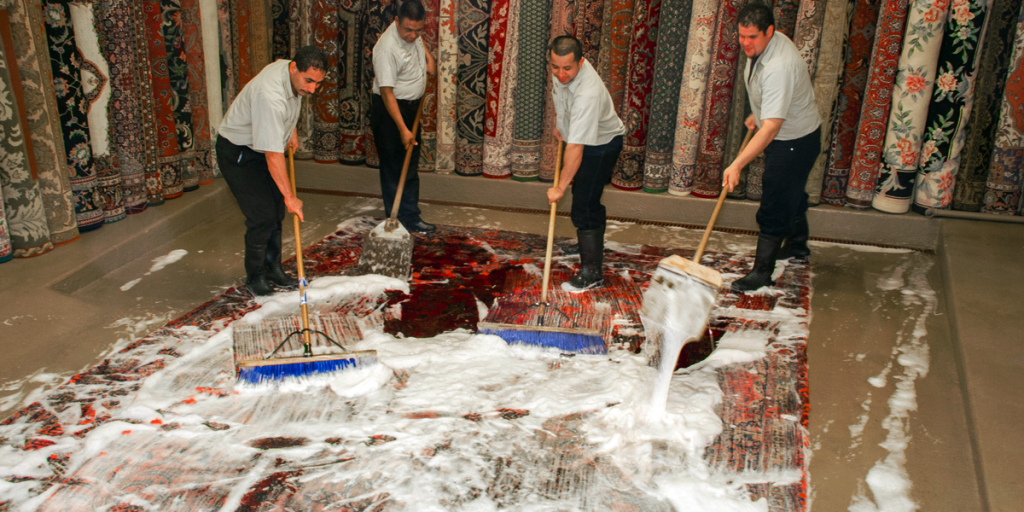 You may have had your rug for many years now, but have you ever had it washed? Depending on the type of rug you have and the amount of traffic it receives, your rug should be cleaned anywhere from once every year to once every five years. We recommend you bring your rug in for a maintenance cleaning at least once every three to five years. The materials in Perisan and Oriental rugs are as soft and beautiful as they are absorbent. Odors, dust, dander, and stains all love to stick to these rugs. If your rug is in a high traffic area, you may consider washing it a bit more often than the recommended three to five years. Persian Rug Cleaner cleans rugs made from all sorts of fibers- whether they are natural or synthetic. Be it silk, wool, Viscose, or any other fiber, Persian Rug Cleaner can handle it all.
Our special, organic enzyme shampoo agent will be used to wash your rug according to the type, age, thickness, country of origin, fiber count, and the amount of staining. No two shampoo mixes will be the same, as we believe that no two rugs should be washed the same way. Each rug is unique and special, and the care we take in washing your rug reflects this. If your rug has not been washed in some time, or if it went through a bit of an accident, take it in for a professional cleaning.
For more information, give us a call at 972-447-9600. All estimates are free and no-obligation.