If you own a hand-knotted Persian or Oriental rug, you may be tempted to clean it yourself in an effort to save a little money. Now, if the rug is not that dirty, and all you want to do is give it a dusting with the vacuum, doing it yourself is fine.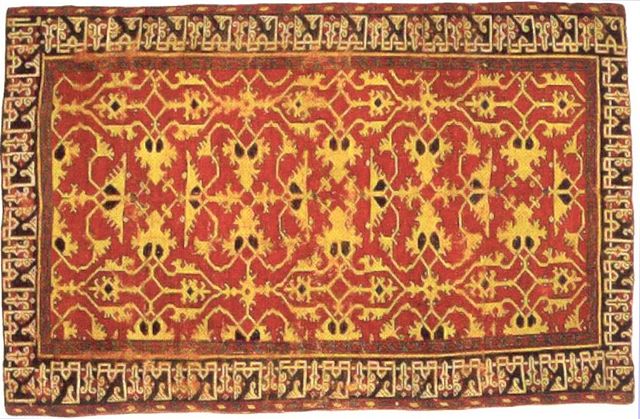 A Western Anatolia 16th century knotted wool Lotto carpet.
However, if you want to give the rug a thorough cleaning, the best thing for you to do is to take it not just to a professional rug cleaner, but to a professional Persian/Oriental rug cleaner because, simply put, they know what to do and how to do it right. Here are a few reasons why using a professional is the best thing to do.
They understand the importance of dusting.
Before they do any cleaning of a rug, a professional Persian rug cleaner will dust the rug thoroughly. This is extremely important. In fact, it is the most important part of cleaning. And it is something that many people – even professionals – neglect to do.
Dusting is important to remove the small particles of dirt on the rug, especially ones that have fallen into the pile. If these particles are not removed, they can damage the rug because of their abrasiveness. If you do not dust the rug thoroughly, you simply remove the dirt on top, leaving the deeply lodged particles underneath.
Moreover, because of the way they are made, Persian rugs can hold a lot of dirt without looking soiled, literally pounds of it.
Persian rug cleaners are painstaking in their efforts to dust out this dirt. It is a very time consuming process. And they do this before they do any washing of the rug.
They use the right detergents.
Persian rug cleaners use detergents that are specially made for these types of rugs. Moreover, they test the rugs to make sure the cleansers will not hurt a rug's colors. Then, they wash the rugs using a rug shampoo that is safe for use on wool. After that, they rinse the rug using an acidic solution that neutralizes the alkaline cleanser, which helps to stabilize the dyes in the rug so that they do not run. Finally, they groom and dry the rugs using air movers. Cleaning a Persian or Oriental rug properly takes a lot of time and effort, but the result is worth it.
When you need your Persian or Oriental rug cleaned in the Dallas region, take it to Persian Rug Cleaner of Dallas. Give us a call at 972-447-9600 for more information.
Image courtesy St. Louis Art Museum via Flickr.com