Moths love many Persian and Oriental rugs. That is because these rugs often are made from wool and vegetable dye. All of the materials are natural. Plus, they like areas that are dark and warm, an environment the underside of these rugs provide. Their larvae love to eat wool as well.
Preventing Moth Infestation
The way to keep moths away is simple – keep your rug clean.
The best way to do this is to vacuum the rug often, at least every two to three weeks, without the beater brush extension. And you should get it cleaned by a professional at least once every two to three years. Pay special attention to the parts of the rug that are in darker areas where, as mentioned, moths prefer to nest and breed.
It is also worth noting that mothballs really don't do much to deter moths from attacking your rug. The lure of the wool and dye is simply too powerful.
The two kinds of moths that are attracted to a Persian/Oriental rug are the webbing moth and the casemaking moth. As far as moths go, they are not large, and they have wings. When they find a Persian or Oriental rug they like, they will begin to build a nest in it.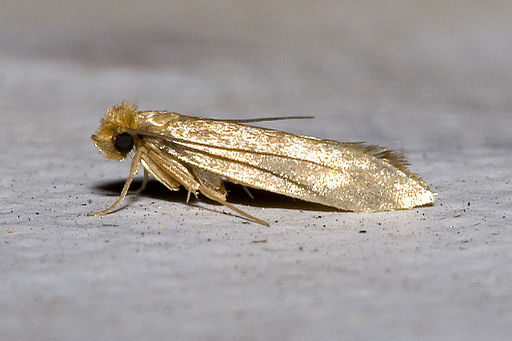 Since they like areas that are dark, you are more likely to find them in sections of the rug where the light is blocked, such as behind furniture. You are likely to find them in an area under the sofa that is seldom vacuumed, for example. They are also partial to certain types of dyes, and so you may find them concentrated on a certain color area of the rug.
After making a nest, the moths will lay their eggs. You probably won't see them because the eggs mimic the color of the rug. The eggs then hatch into larvae, which are about one-half inch long, and the larvae begin eating the fibers.
If you've found signs of moth infestation in your Persian or Oriental rug, bring them to Persian Rug Cleaner of Dallas. Contact us at 972-447-9600 for more information.
Image by Olaf Leillinger (Own work) [CC BY-SA 2.5 or GFDL], via Wikimedia Commons.