Persian rugs are well made and last a long time. And you want to take good care of them. You may decide to clean your Persian rugs yourself. If you do, be careful. There are certain things you don't want to do because they could damage your piece, which is a valuable investment. Here are a few things to watch out for if you decide to do it yourself.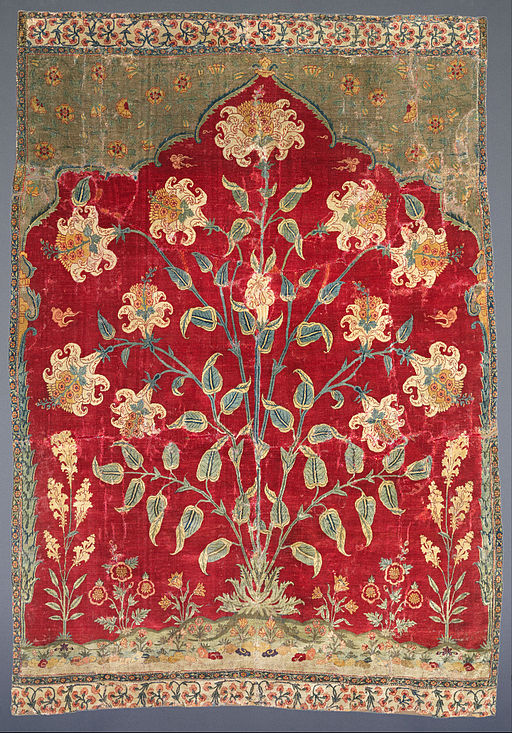 Saf carpet from India
Not using the right product(s).
Professional cleaners use carpet cleaning tools with special detergents that are designed to take out dirt and stains but not damage the rug itself. But that may not be true of your everyday laundry detergent. Some laundry detergents are too powerful to use on a Persian rug and could do permanent damage to the rug. Any soap used on a Persian or Oriental rug should be as gentle possible.
Using more water than necessary.
Using too much water may not remove the dirt, but just move it around more. Moreover, if you do not get all of the water out, you may have a problem with mold later on.
Not taking care of a stain right away.
If you spill something on the rug, you need to take care of the problem as soon as possible to be sure you can remove all of the stain. The longer you wait, the more difficult it will become to remove the stain because it may seep into the material of the rug. This is true of liquids like grape juice.
Treating the rug more than needed.
If you clean a rug too often, you also risk damaging the rug. The cleaning liquids used, as well as the scrubbing, could lead to a fading of the colors of the rug. You should only treat a rug when it becomes dirty or stained.
Deodorizing instead of cleaning.
Don't substitute deodorizing powders for real cleansers. These powders don't clean rugs. Plus, the powder is hard to remove.
Not taking it to a professional Persian or Oriental rug cleaner in the first place
Persian and Oriental rugs are so valuable, it's truly risky to treat the rug yourself. You no doubt spent a good amount of money on your textile work of art, so be sure to protect it as much as possible by always having it professionally washed.
When you need your Persian/Oriental rug cleaned, make sure you contact the experts at , Persian Rug Cleaner of Dallas. Contact us a call at 972-447-9600 for an appointment.
By Unknown, India, 1600-1650 (India) [Public domain], via Wikimedia Commons