Persian Rug Cleaner deals with antique rugs, Persian rugs, and Oriental rugs on a daily basis, so our rug experts can easily determine the current value of your rug. The value of your rug is influenced by age, color, condition, current rug trends, designs, size, technical features, and much more. All verbal appraisals are free, so call or visit us to learn how much your rug is worth if you're simply curious! We may suggest having your rug cleaned if it looks like it has not been cleaned in some time, but you are under no obligation to have your rug cleaned if you do not want this service.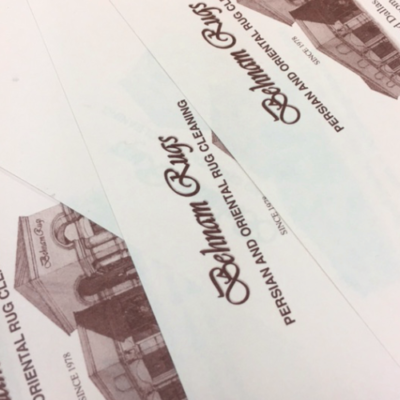 It is important to have your rugs appraised regularly. If you require an appraisal for insurance purposes, ask us about our written appraisals. These appraisals are official and detail information such as the value of your rug, its age, origin, and more. If your rug has been damaged, we will also appraise your rug for before damage and after damage values. Many insurance companies will not honor written appraisals over three years old, so make sure your papers are up to date.
Not So Fun Fact: Did you know that most home insurance policies do not cover antique rugs, Persian rugs, Oriental rugs, or any other type of fine, handmade rugs? You usually have to purchase a separate type of insurance for these items. Make sure you know exactly what your insurance policy does and does not cover before you need to use it!
Persian Rug Cleaner offers written appraisals, insurance quotes, and insurance opinion letters. If your rugs are not already insured, Persian Rug Cleaner strongly suggests changing that as soon as possible. Handmade Persian and Oriental rugs represent a significant investment. Like any investment, a handmade rug should be insured and protected.
Rugs can fall victim to many types of accidents. Stains, flood damage, fire damage, and mold are just some of the things that could happen to your rug over time. Many home insurance policies cover area rugs but not fine, handmade rugs. Take the time to make sure your rugs are protected.
Have a lot of rugs? Ask us about our rug portfolio and what it can do for you. Call us at 972-447-9600 or visit us, Monday through Saturday from 9AM to 5:30PM, for more information