The best way to clean an Oriental rug is by washing it. But to wash it with the care it deserves, you need to take it to a professional.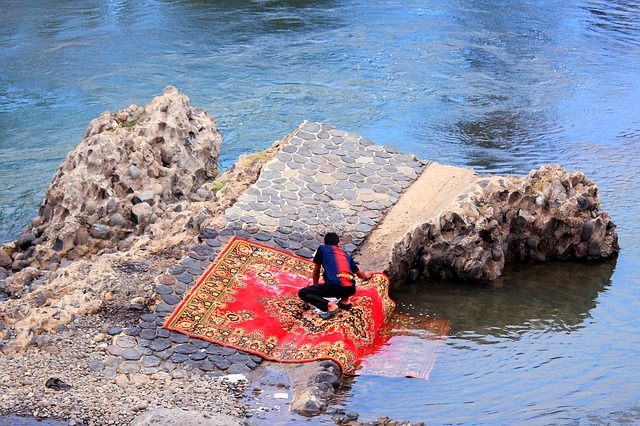 Don't do this at home.
There are several reasons for this. The first has to do with the material from which the rug is made. That material is usually wool. Because of the structure of a wool fiber, which under a microscope looks like overlapping flat plates, wool rugs can hold a lot of dirt. The reason for this is that there are many places for the dirt to go in a strand of wool. A wool rug can hold literally several pounds of dirt and other debris and not look especially dirty, because the dirt is ensconced in all the nooks and crannies in the fibers.
So, the first reason why the rug needs to be removed from the home is because of all the dirt in it. All of the dirt needs to be taken out even before you wash the rug. Moreover, you cannot wash a woven Oriental rug thoroughly in a home with the usual carpet washing machines, which only do surface cleaning. In fact, sometimes trying to wash a rug in a home can cause more damage.
Many people also try to hose down their rugs at home, not realizing how much water a wool rug can hold, again because of the structure of the fibers. It can cause the dye to run, or other problems such as buckling and shrinking of the rug. Plus, it takes a very long time for the rug to dry.
Because the fibers absorb so much water, the rugs become very heavy. The inside fibers swell with water, and so you need the proper equipment to get the water out to enable the rug to dry quickly.
To wash Oriental rugs properly, they need to be taken to a facility that specializes in washing Oriental rugs. It is only there that professional cleaners will be able to use the equipment needed to get the most dirt out of the rug before washing it. And then, through the use of a wash pit or wash floor, the cleaners will be able to completely saturate the rug to loosen up and flush out the remaining debris in the rug. What's more, they will be able to dry the rug completely before it returns to your home.
When you need an Oriental or Persian rug washed, call upon the experts at Persian Rug Cleaner of Dallas. Give us a call at 972-447-9600 for an appointment.