Tips for Selecting the Perfect Area Rug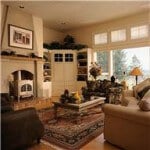 Area rugs can serve many purposes. From an interior design standpoint, rugs support the color scheme and style of the room and can be the perfect starting point for selecting paint and furnishings. Rugs can help define separate areas in a space, and can also serve as a stunning focal point for a room. From a practical standpoint, rugs add warmth to a cool floor, help reduce noise, and provide a comfortable place for kids to play. With the enormous selection of rugs available, choosing the right one can be daunting. Below are a few tips to consider when choosing an area rug.
Decide how much you would like your rug to stand out in the room. Will the rug be a focal point, functioning like artwork in the room? If so, then choose a rug with a beautiful design or motif. For example, in traditionally decorated rooms, you might select a rug with a center medallion; for a more modern room, you might select an abstract or geometric design. If you select an area rug with a large and busy pattern, keep the other fabrics in the room simple. For example, a solid color sofa, and a subtle striped fabric on the chairs. If you would rather call attention to other features in the room, such as that gorgeous oil painting or that new red sofa, select a rug with a muted pattern or a solid color.
A rug for your dining room should be large enough to accommodate both the table as well as the chairs with people sitting in them. A rule of thumb is to add about 36″ to the width and length of the table. This will give enough room for diners to comfortably move their chairs in and out. Generally, china cabinets and buffets sit on the floor, not the area rug.
If you are purchasing a large rug to cover an entire room, leave a border of exposed floor on all sides. This will make the room look larger. If your rug is centered in the room, aim for equal amounts of floor showing on all sides. When this is not possible, aim for equal amounts on two opposite sides.
For stability, living room chairs should ideally be placed all the way on or all the way off the area rug. If chairs are heavy enough, this may not be a problem. Sofas are heavy enough that they can be partially on and off the rug.
A rug under a coffee table looks best if the rug is the same length as the sofa. An area rug measuring 6′ X 8′ or 5′ X 7′ is usually a good size in front of a sofa.
Use a waffle-weave mat called a "rug grip" underneath rugs that are placed on bare floors. This will protect the floor from scratches, as well as keep the rug in place.
Area rugs on top of wall-to-wall carpeting can cause a tripping hazard. I prefer not to use area rugs on top of carpeting, but if you do, make sure to use a rug grip made for this purpose. This type of rug grip has adhesive on both sides, causing the rug to stick to the carpeting.