Our extensive knowledge of Persian rugs has been passed down from our Persian/Iranian ancestors as well as our last four decades here in U.S. Over this time when it comes to cleaning fine, hand-knotted Persian and Oriental rugs, we've heard countless bad advice when it comes to cleaning these textile works of art.
Yes, Persian/Oriental rugs are tough – they can last decades, even centuries – so long as they are cared for properly. But you shouldn't just throw a rug shampooing machine at them: they do need special handling when it comes to cleaning them.
Take a look below at some of the worst Persian/Oriental rug cleaning advice we've heard over the years.
"These rugs last for centuries, so there's no need to clean them every three to five years."
Definitely, no. These rugs last for decades or centuries because 1) they are exceptionally well made and 2), they are washed regularly, as in every three to five years. Even if the rug doesn't appear dirty, rest assured that dust and silica (very fine particulates), sink down into the fabric and these tiny pieces just saw away at the rug's fiber when the rug is walked upon, which makes the rug go bare. Your Persian or Oriental rug should be hand washed by a professional Persian/Oriental rug cleaner every three to five years.
"Just go ahead and vacuum the dirt and grit up. These rugs can take it!"
These rugs can take a lot, and you do need to get the dirt and grit out regularly – as in at least monthly. But never "just" vacuum the rug: you never should use a vacuum's beater brush and should instead just use the machine's suction tool. You also could sweep the rug with a clean broom, but don't brush the broom too vigorously and make sure you sweep it in the direction of the rug's pile.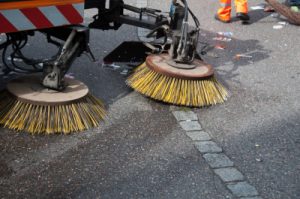 You wouldn't vacuum your carpets with a street sweeper would you? Then you should never vacuum your rug with a vacuum cleaner's beater brush!
"Go rent a rug shampoo machine and wash that rug yourself!"
A carpet shampoo machine just wets the rug's surface and doesn't clean all the way through the rug.
In addition, just like a vacuum cleaner's beater brush, a shampoo machine can wear down the fibers of your carpet. What's more, the chemicals of the shampoo almost always are too harsh. If you feel you absolutely must clean your hand-made Persian/Oriental rug yourself, at the very least, follow these instructions from this PersianRugCleaner.com post.
"Once you shampoo the rug, just let it lie there until it dries."
If you attempt to wash your rug yourself at home, know that a wet rug at least doubles in weight and is extremely hard to move. You also will need to extract the water and flip the rug for even drying on both sides.
We suggest drying your rug outside but first check your rug for color fastness as some rugs fade in the sun.
While drying it outside is best,  you could lie it on a clean floor (such as a basement, but make sure the basement isn't too humid or too dry and has good air circulation). Your driveway is a good option, but you'll want to be sure it is as free of debris as possible. You'll also need to turn the rug over so that the other side dries completely.
You'll also need to turn the rug over so that the other side dries completely. Never hang a wet rug, the colors may run and the weight of the rug could change its the shape.
You've invested a considerable amount of money in a hand-knotted Persian or Oriental rug. To keep your investment in the best shape it can be for years and years, invest in having it professionally cleaned by Persian Rug Cleaner of Dallas. Contact us at 972-447-9600.
Image courtesy of franky242/FreeDigitalPhotos.net