Life happens. And that means accidents happen – and they well could happen to your Persian or Oriental rug.
Sometimes these accidents cause some sort of damage to the rug – a hole appears; a wine stain has time to sink into the rug's threads, making it much harder to remove; fringe becomes torn; and so on.
Read below for the best things to do when something damages your Persian/Oriental rug.
First, don't panic. As beautiful as these rugs are, they also are exceptionally durable – it takes a lot to really harm them. In fact, most damage to these rugs comes about not due to an accident, but because of neglect or improper care.
If you've spilled liquid, blot it up with clean cotton cloth as soon as possible. Don't scrub the stain, but do blot with moderate force. Once you've blotted up most of the moisture, dampen a clean cotton cloth and blot again, working to get as much of the stain – if you've spilled wine or coffee, for example – up as possible.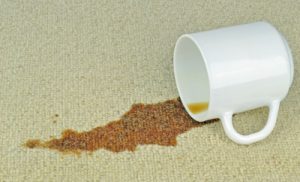 Blot and clean up coffee spilled on your Persian/Oriental rug as soon as you can.
To spot-remove stains, use the gentlest cleaning solution possible. Don't scrub, blot. Work methodically. Dab with cleaning solution, use a clean cotton cloth to blot. Dab again. Blot again. If the stain remains, you probably will need to take it to a professional Dallas Persian rug cleaner.
If someone tears a hole in the rug, don't try to repair it yourself: simply understand that these fine textiles are going to have to be repaired professionally by someone experienced in the repairing a Persian or Oriental rug. If you see a hole in the rug, it's best to remove the rug from traffic and get it to a professional repair person as soon as you can.
Storing your rug correctly is important to keep moths at bay (roll it up and wrap it in clean, cotton cloth in a climate-controlled room, laying it flat on a table and never on the floor). If you notice moth damage, once again, you will need to take it to an expert in reweaving Persian and Oriental rugs in order to restore the rug's weave to its original state.
Should you use a vacuum cleaner's beater brush, you could damage the rug's fringe: it could tear strands off completely or knot them so much that the fringe becomes "clump-like." You may think you can simply unknot the fringe knots yourself, but we don't recommend this; you could damage the rug's fringe even more. Take it to a professional. The same goes for torn fringe: an expert in restoring fringe to a Persian or Oriental rug will be able to replace/restore fringe to the rug so well that you'll never know it was damaged.
Many Persian/Oriental rug cleaners offer damage repair services. Persian Rug Cleaner of Dallas can repair damage caused by mildew, moths, pet accidents, stains, dampness/flooding, and more.
Give us a call at 972-447-9600.
Image courtesy of MisterGCs/FreeDigitalPhotos.net