Many people love the beauty of a Persian rug so much they become collectors in that they buy several rugs during their lifetime, probably eventually moving on to purchasing one or more antique Persian rugs.
An antique Persian rug may or may not be more expensive as a new rug.
Mr. Behnam loves appraising rugs customers find at estate and garage sales and surprising customers with the true value of their finds! He also says with a little rug knowledge you can be even more successful with your purchase. ( Read more rug tips here–> http://www.behnamrugs.com/dallas-rug-cleaning-blog/ )
Where you purchase your rug, the maintenance and care of the rugs and if the sellers are reputable dealers are big factor when buying a rug, Mr. Behnam says. Also based on your rug knowledge he suggest checking if the rug is priced correct with correct information, like is the rug really an antique rug? After all these questions you can then ask yourself, do I love the quality, design and craftsmanship of the rug?
Read below for the pros and cons of purchasing an antique Persian or Oriental rug.
Unlike furniture and paintings, a rug isn't considered to be truly antique until it's at least 50 years old.
Rug prices can vary widely especially when they are being considered antiques. You should focus on the rugs' quality, size (large size Persian rug cost more and true antique Persian/ Oriental rugs will cost even more.) Its condition (the more restoration the rug needs the less expensive it will be to purchase.) Older antique rugs will probably be more expensive but age is only one factor to consider (unless it's from the 1900 or earlier)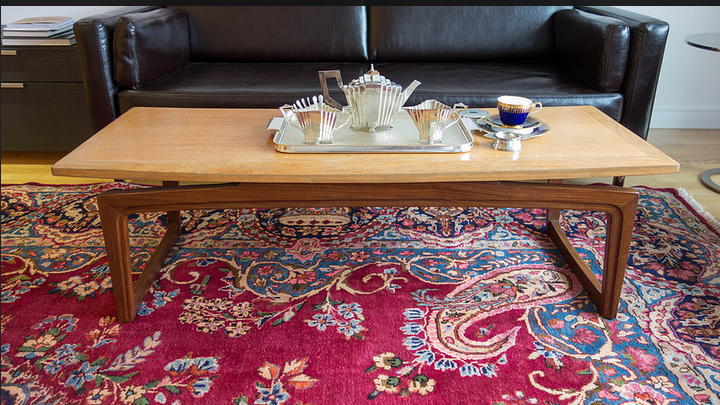 Whether antique or not, a Persian rug can add warmth to a filled with sleek and spare styled furniture.
Color is a factor with used rugs. Rugs that are 1-30years old that have trendy colors do not have any extra resell value and can be purchased from an individual for very little money. Or often sold on Craigslist.
Because trends come and go, a certain look, color or design in an antique rug also can determine its price today. If the antique rug's design is "in" right now, it probably will cost more than a rug of the same vintage, wear and craftsmanship that doesn't possess the of-the-moment design.
As for modern Persian and Oriental rugs, they often can be found in colors that veer from the traditional indigo and crimson backgrounds.
A type of rug "look" is called antique reproduction and the look is completed by using hand twisted wool yarn, and being made with vegetable dyes, and special hand stone wash to distress the look and leave the rug with a much lighter weight /higher body. Often these rugs are herb washed, sulfur steam bathed or kept under the desert sand or underground  dirt to create an aged, distress and mystique look.
Most Persian rugs made today are made with chemical dyes (instead of the traditional vegetable dyes). The better of these dyes tend to have colors that stay fast longer (they don't fade as quickly, in other words) and they don't bleed.
As you wonder whether to purchase an antique or modern rug, remember that an antique rug is an antique and therefore will be more delicate than a modern rug. If you have young children and pets at home, an antique rug may not be the best choice for you and your family.
If you have an antique Persian or Oriental rug you need cleaned or restored, bring it to the carpet cleaning experts at Persian Rug Cleaners. We use traditional and meticulous 2,500 Persian rug cleaning methods.
Stop by between 9-5:30 Monday through Saturday or give us a call at 972-447-9600.
Image by Kent Wang/Flickr.com