You love your pets. You love Persian rugs. Can't they all just get along?
Of course they can!
As you mull over whether to purchase a Persian rug, you may be considering that your dog or cat could ruin it. After all, accidents do happen and you're worried your dog or cat could pee on the rug, that your dog or cat could scratch or chew the rug.
You needn't worry too much.
After all, a fine Persian or Oriental rug is crafted to stand the test of time…and pets. These handmade objects of beauty are sturdy and can pretty much withstand anything you ask of them.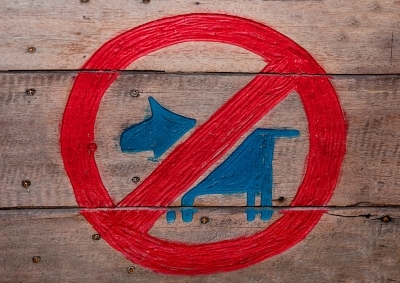 There's no need to ban pets from your home once you purchase a Persian rug. Take a look below for some things you can do to help them "get along."
There are a few things you can do help your pets coexist peacefully with your Persian rug. Read below for some of our tips.
Perhaps the first thing you may want to do is place the rug in a location not frequented by your pet. This helps keep even the chance of an accident from occurring.
Consider hanging your rug on a wall – far above Fluffy's claws – to display it instead of placing it on a floor.
If your rug has tassels, consider removing them (save them as they can be replaced later). This way your dog is less likely to chew on them and your cat is less likely to play with them, certainly entangling them as time goes on.
If headed out for a trip and you'll have a pet sitter come in to feed/walk your pets, seriously consider removing the rug and placing it somewhere safe. That way, your pets can't pee/poop on it. Cleaning pet stains from a Persian rug needs to happen ASAP after the accident and if the pet sitter comes in a few hours later…..
Speaking of accidents, if your dog or cat does relieve himself on your rug, follow these steps immediately:

If your pet has pooped or vomited, scoop it up quickly. Then blot up what you can't scoop with a clean cotton towel.
Grab some club soda (you should keep it handy at home for just such an emergency) and pour it into a container. (If you don't have club soda at home, create a 50/50 mix of white vinegar and cool water.)
Using a sponge and wringing out any excess, dampen (don't wet; dampen) the area that's affected. Blot with a cotton towel to pull out the urine/vomit/poop.
Keep blotting until you see nothing coming up on the towel (best to use a light-colored towel).
Now take a portable hair dryer, place it on warm – not hot – and dry the fibers of the rug. It's best if you can raise the affected area so that you can place the dryer so that air flows on both the top and underside of the rug.
If you see that dyes in the rug are coming off on the towel, stop dampening the rug and blot/dry it as quickly as you can. A too-wet rug risks growing mildew and mold. That's why you shouldn't wet the rug, but dampen it.
Also, don't scrub; you risk breaking the wool's fiber.
If your pet continues to defecate or pee on the rug (or get sick), you need to remove the rug to where your pet has no access to it. Repeated accidents of this sort can eventually lead to mold/mildew, permanent stains and bad odors.
If you're looking for a reliable and professional rug cleaner, contact Persian Rug Cleaner of Dallas. Get a hold of us by calling 972-447-9600.
Image courtesy of cbenjasuwan/FreeDigitalPhotos.net