If you decided to clean your Persian or Oriental rug yourself (and we – naturally – don't  recommend that anyone go the DIY route when it comes to these fine, hand-knotted works of art) and damaged it in the process, what should you do?
Read below for some suggestions.
We do not recommend washing rugs at home with water and cleaner. Washing rugs is a more technical procedure requiring a certain length of time for the rug to stay wet, proper drying methods and using natural cleaners made for natural rug fibers.  If not properly dried, many fine rugs after washing at home have musty odors or a wet wool smell. The odor can stay with the rug even after it has dried at home.
Persian and Oriental rugs tend to have cotton wefts and warp. The warp runs end to end on the rug (the fringe of a hand-knotted rug is created at the edge of the warp). The warp also is where the craftsmen tie the knots, creating the rug's pile. This craftsman construction requires hand washing only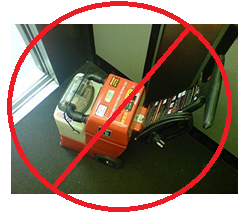 Your Persian rug was made by hand; it should be cleaned by hand,
not with a carpet cleaning machine.
If you did attempt to wash your rug and it experienced water damage, you're going to have to have it repaired/restored by a professional schooled in repairing hand-knotted Persian and Oriental rugs.
The extent of the repair will depend on the extent of the damage to your rug. (Unfortunately, if its colors have run, there's little that can be done to "fix" the colors).
A color run is where the rug color has bled over one color into the next color. The damage could be moderate to extreme depending on what cleaning shampoo has been used, the temperature of the water, any other solutions that were added during the wash, and the length of time the rug stays wet.
What can you do if the colors have run on the rug you – or someone else – washed? Contact the professionals at Persian Rug Cleaner of Dallas  to rewash and dry your rug properly. If you decide to wash your rug at home, contact us and we will give you tips to prevent damaging your rugs.
If the rug has rotted, the rotted section will have to be rewoven, possibly even replacing the warp and weft in order to complete the reweaving.
If the water damage is contained in a small area, the warp/weft may be saved, allowing the weaver to reweave a smaller section, saving considerable money.
If  you – or  another cleaner – has damaged your Persian or Oriental rug when cleaning, bring it to the cleaning and repair experts at Persian Rug Cleaner of Dallas. Or give us a call to pick up your rug at 972-447-9600.