Silk Persian rugs are less sturdy than those made of wool, so their care and cleaning is a tad more involved.
Perhaps the best thing you could do to keep your silk rug clean is to place it in a room you seldom use – or even hang it on a wall as you would fine art.
You will want to sweep the rug regularly – and gently – to remove the dust and dirt that will fall upon it. You also can vacuum the rug, but be very careful as you do so and use only the rug's brushless suction tool head as the roller can damage the silk.
Sweeping it gently with a broom is best, however, as you can do so with a very light touch, thus helping to keep damage to the rug's silk fibers to a minimum.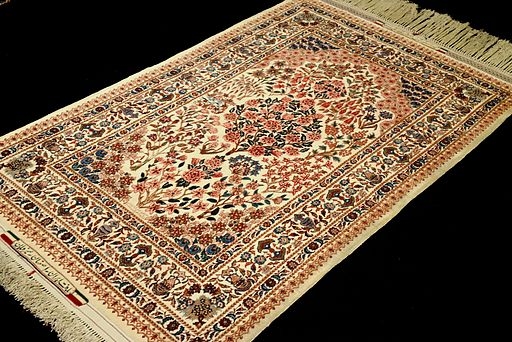 A silk rug this beautiful deserves the best in care and cleaning.
Keep your rug from a space heater and never place it near a heating vent on your floor. The heat dries the silk and can even shrink it permanently.
When cleaning the rug, you should use cool or lukewarm water as warm/hot water could shrink the silk fibers. The warm water also could fade the rug's colors.
Any spill on the rug should be taken care of ASAP. Doing so prevents it from setting in to the rug's fivers, possibly making the stain impossible to remove.
If the spill is a solid one, scoop it up with a spoon (be careful not to scrape the rug itself; you could tear the silk fibers).
Should you spill liquid on the rug, gently press the spill with a clean, white cloth and absorb as much of the spill as possible. If you notice that the color from the spill is still there, use a gentle cleanser on the rug.
Some silk rug owners swear by club soda to remove a stain. Pour the soda onto a clean rug and the blot the stain with it. Leave the area to air dry. You also could try a combination of 50/50 white vinegar and water. Blot up excess fluid and let dry
Test any cleanser, club soda, etc. on a small (hidden) part of the rug before using.  Do so by blotting the cleanser/club soda on to a spot and then let it dry. If you see any damage at all, don't use the cleaner
We don't recommend that you perform a full rug cleaning on the rug yourself. Any and every silk rug should be cleaned professionally.
If you have a silk Persian or Oriental that needs a thorough cleaning, bring it to the experienced professionals at Persian Rug Cleaner of Dallas.  Contact us at 972-447-9600.
Photoby Rugmaster (own work) [CCBY-SA 4.0], via Wikimedia Commons.