Persian and Oriental rugs are gorgeous works of art. However, unlike sculptures, paintings, ceramics, etc., they are not delicate – these rugs are incredibly sturdy and can take just about anything you can throw – or spill – on them…for decades!
Still, the better you care for them the longer they'll last, and they longer they'll stay looking as fantastic as they day you bought them.
Read below for six maintenance tools anyone who owns a Persian or Oriental rug should have.
Make sure you vacuum your rug regularly (as in monthly, at least). But don't use your vacuum cleaner's beater bar, just use the suction tool. This helps keep runs and tears at bay.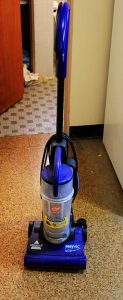 When vacuuming Oriental or Persian rug, us a beater brush-free vacuum such as this EasyVac.
While you should have your whole rug cleaned two or three years by a professional Persian rug cleaner, you also should have dry, absorbent cotton cloths on hand to clean up spills. As soon after the accident as possible, dab the stain to pick up excess moisture. Then moisten the cloth with water only and dab the stain to clean as much of the stain color as possible. Don't use soap or any other chemicals or cleaning powders. If the stain remains, you probably will need to have a rug cleaner who specializes in Persian/Oriental rugs clean the rug.
Place a good pad beneath the rug. This helps prevent the rug from wrinkling and keeps it stable. It also helps protect the rug's shape. Make sure the pad is made specifically for a Persian or Oriental rug and that it's designed so that dirt and dust fall to the floor, instead of clinging to the rug's back.
Consider purchasing rug protectors to cover the feet of the furniture that you place on top of all or part of your Persian or Oriental rug.
To store your rug,  roll the rug in clean cotton fabric when storing it. Never place it in plastic – dampness can result, possibly leading to mold and mildew damage.
Finally, if your rug is exposed to direct sunlight and if you can't move it and/or rotate it, consider investing in drapes or blinds that block damaging UV rays (and make sure you close them at those time the rugs is exposed to the sun). This will help keep your rug's colors vibrant.
Need your Persian or Oriental rug cleaned in the Dallas are? Then bring it to the cleaning experts at Persian Rug Cleaner of Dallas. Contac us by calling 972-447-9600.
By Yinan Chen (www.goodfreephotos.com), via Wikimedia Commons